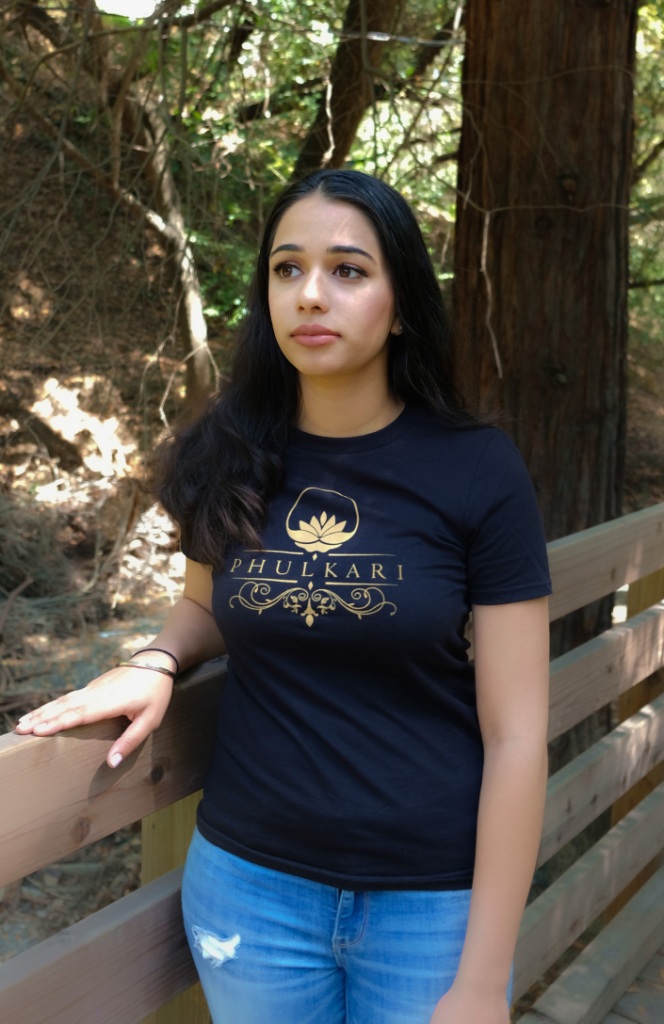 12 May

Phulkari In The Future
Gurlynn Kaur - Phulkari Co. CEO
 21-year-old CEO, Gurlynn Kaur, never saw herself as a fashion designer. Though she was always a creative soul and had a passion for clothing, creating apparel had never been her path of interest. That's until the thought of infusing the vibrancy of punjabi traditions with western style took over her senses. The San Jose State finance major was so swept away with her newly found business concept that she devoted a whole year to research fabrics, embroidery, clothing brands, and the history of phulkari before she embarked on her journey as a young entrepreneur in November 2017. She named her brand, Phulkari Co.
Phulkari is a floral print design used in traditional Punjabi clothing. Phulkari designs are stitched with silk yarn in insanely ornate and colorful styles. They give Punjabi dresses a very royal and eye catching appearance. The term "phulkari" was first portrayed in Punjabi literature in the 18th century by Waris Shah in his legendary tale, "Heer Ranjha", a Romeo and Juliet type love story. Here he describes phulkari stitching on the leading character's outfits. As told by Gurlynn's grandmother, from the time a baby girl was born into a Punjabi family, the female family members would start working on several phulkari shawls that would be gifted to their daughter at the time of marriage. They would also give the daughter's in-laws 11-101 Phulkari designs as a dowry, a practice that is illegal in modern India.
Phulkari Co. Forest Green Pocket Tee
Today, Indian phulkari dresses and shawls are on trend after being out of the Indian fashion market for about 20 years. This made it the perfect timing for Gurlynn to harvest the creative concept for her business plan and introduce a new definition to the phulkari design without carrying the weight of its patriarchal dark past. Though it is a design that was traditionally worn by females, Phulkari Co. broke the gender stereotype by creating gender neutral apparel that has been very popular among their male audience.
Gurlynn described the online launch of Phulkari Co. as cluttered and thrown together at the last minute. Despite the rushed release, it was a huge success due to the admiration of her product. Many people in the Punjabi community fell in love with the phulkari pocketed t-shirts, and phulkari embroidered joggers.
Various creatives and business owners admired Gurlynn's hard work and offered to help her in any way that they could with marketing photo shoots and modeling her clothing designs. Gurlynn's close friend, Raj from Above The Hype has been a great mentor and coach when it came to helping her start out. He shared everything that he knew from his experience with his brand and guided her so that she didn't make the same mistakes that he made in the past. As a small business owner himself, Gurlynn's father was also there to advise her on making big business decisions.
Like all businesses, Phulkari Co. also had to face a setback in 2018 when they disappeared from the public eye while struggling to restock their product. By the time she got her inventory back, Gurlynn lost a lot of her audience due to her lack of marketing. Though she described herself as the type of person who would rather solve her problems on her own instead of asking for help, she reached out to Raj from Above The Hype to give her some advice on what she needed to do to get back on her feet. Raj recommended Gurlynn to reach out to people on social media, tell them about her business and ask for their support. Once she reached out to enough people things began to pick up again and Gurlynn was back where she left off!
Gurlynn is a firm believer that every problem has a solution. She says that if a brand is always finding an innovative new way to connect with their audience and go with the flow of popular culture, it will always keep the business relevant. Gurlynn is very blessed that there have never been any negative individuals that tried to drag her down during her journey with Phulkari Co. Her parents were a little uncomfortable with her putting so much effort into the brand in the beginning but turned out to be her biggest support system when they saw her amazing products.
With the Phukari revolutionizing the western fashion industry, the future never looked brighter! Gurlynn is taking baby steps with her business ideas by planning out a year at a time. Within a year, she plans on visiting the East Coast and Toronto to collaborate with public figures that can help her grow outside the punjabi community. Her big dreams with her brand is to see her Blue Orchid Collection being modeled by R&B artists or artists in the Punjabi Music Industry
Take a look at the Phukari Co's stunning merchandise on website provided in the link below!
Also follow them on Instagram to keep up with their business journey @phulkarico